 Enterprise Video Management Platforms Explained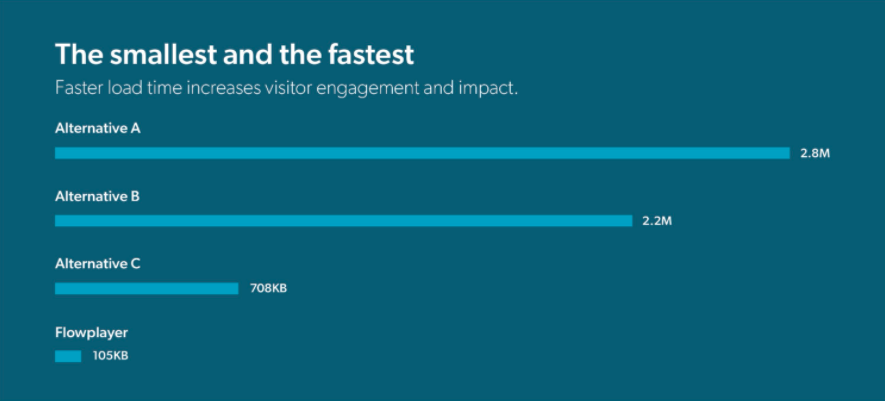 Why do you need an enterprise video management platform?
As we covered recently, uploading video files directly to your site can get complicated, and restricts the amount of control you have. Common issues include:
Bandwidth issues
Poor performance
Varying quality between browsers
Storage and hosting issues
Your next thought may be to use a free solution , but that's often not the best option either. Open-source solutions are littered with shortcomings that lower the quality of the user experience (and may even put your data at risk):
Content theft
Security issues
Limited customization and poor playback speed/quality
Limited analytics
Lack of customer support
Such limitations can severely limit your growth and impact your bottom line. Overall, it's a better option to choose a dedicated, customizable enterprise video hosting solution that is designed to solve those common issues.
What features matter the most?
When selecting the right enterprise video content management system for your business, here are some key factors that should be considered:
Performance & speed
There's nothing more frustrating than an enterprise video platform not loading correctly or loading too slowly. One of the big selling points of standalone video management platforms is getting fast, consistent playback without buffering or errors.
Flowplayer, for example, is a performance-first platform. Compared to competitors, it delivers much faster load times, which translates to a better user experience.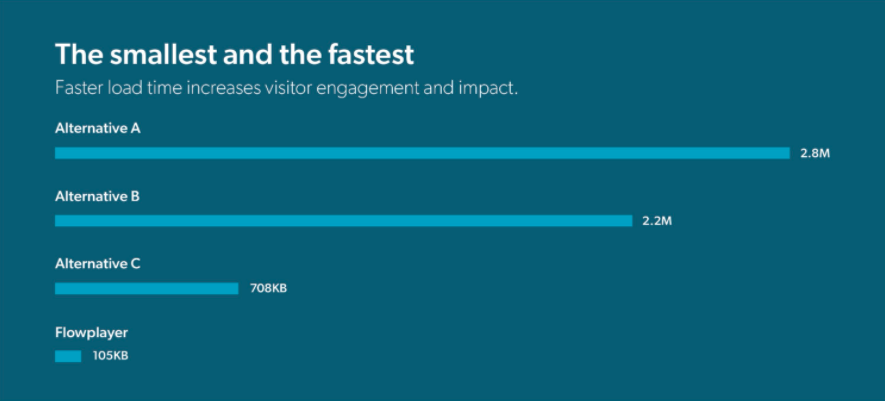 Customization
A bespoke video platform like Flowplayer offers a ton of customizable video interfaces to align with your UX and design standards. You can choose from dozens of configurations, including skins, thumbnail settings, galleries and playlists, video recommendations, and much more.
Designed to enhance your user experience, these video portals can be seamlessly integrated using plugins or coded to fully enhance your website experience.
Technical features
A well-rounded enterprise video management platform will offer state-of-the-art APIs and software development kits so you can integrate with your existing tech stack and get your content in front of more people.
Live streaming capabilities
Live streaming is more important than ever, especially as more events are going virtual. You need a video player that can maintain large-scale, high-volume video broadcasting in real time.
Using a live streaming service like Flowplayer, users can click once and start live streaming HD quality video from their mobile device — no buffering, no stream crashing, no problems.
Flowplayer enterprise plans also include:
DVR functionality
Live clipping capabilities
Real-time diagnostics
And more!
Anti-theft options
Unauthorized use of copyrighted content is rampant on the internet, and brands need to protect their videos.
Advanced Digital Rights Management (DRM) uses encryption to prevent copying, redistributing, or converting video assets. Without it, you could be losing revenue to content thieves. Flowplayer offers DRM features like domain locking, geo-blocking, and encryption to help you cover all your bases.
Real-time analytics
To maximize your ROI, you will need advanced analytics to gain insights on performance, engagement, viewership, and revenue.
Getting relevant information on user behavior is vital for allocating resources where they'll have the biggest impact. An industry-leading analytics platform like Flowplayer allows you to make important content production decisions based on real-time actionable data insights.
Monetization
You've invested in generating the best quality content for your audience. Why would you leave ROI on the table?
To maximize your ROI, you might want to consider advertising video-on-demand (AVOD), subscription video-on-demand (SVOD) and transactional video-on-demand (TVOD). It's important that you go for an enterprise solution that offers a range of flexible monetization options.
With Flowplayer's AVOD features, you can get the highest possible ad fill rate and keep 100% of the revenue. Flowplayer works with any ad server, network, or exchange with support for Google DFP, Google IMA, SpotX, AdX, and FreeWheel. Plus, it allows for custom ad scheduling so you maintain total control.
For your SVOD and TVOD needs, Flowplayer is compatible with all of the great paywall technologies. It also goes one step further by offering subscription management tools that can limit users sharing credentials on the one account, protecting revenue streams — innovative technology coined by Flowplayer as the Qualified User Limiter or QUL.
Custom plans
For enterprise users, limits on storage space, plays per month, or streaming capacity can translate to limits on prospective revenue streams.
Many video management platforms keep a lid on your growth potential, but not Flowplayer. We have custom plans available for enterprise organizations so you can drive more traffic without limitations.
Stellar customer support
Technical specifications matter a lot for any software, but nothing's quite as valuable as good customer service from a provider.
When you need a hand getting your platform optimized to generate the highest ROI, we've got your back. Our enterprise plan gives you access to expert email support and a customer success manager to help you reach your video management goals.
Conclusion
The Flowplayer Enterprise plan exceeds all expectations for what to look for in an enterprise video management platform. From the speed and performance of the player itself to the extensive customization options, it's the perfect solution to help your organization manage video content.
See what Flowplayer can do for your enterprise organization.