 How to Schedule Video Ads for Your Online Videos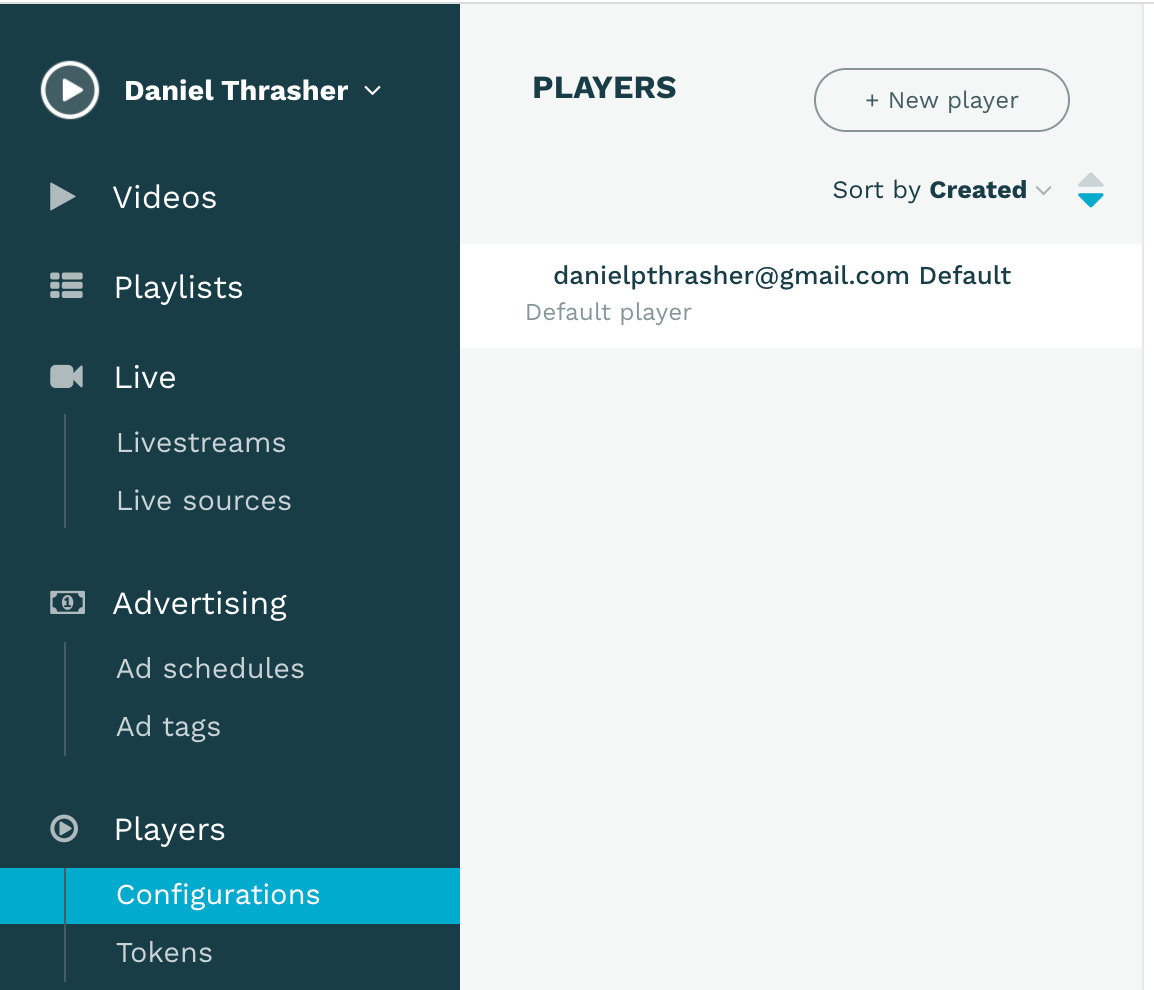 Do you know the biggest reason why a content publisher, business, or media company chooses to publish on a dedicated online video platform (OVP) like Flowplayer?
One word: Control.
It's not just control over your video quality or your bitrate settings, but over something even more important: revenue.
As we'll cover in this post, if you're actively looking to monetize your video content, then being able to manage and schedule video ads on your videos is a huge benefit that can dramatically improve your earning potential through advertisements.
Ready to learn about what ad scheduling can do? Let's dive in!
Why You Need an Online Video Platform
Allow me to paint a picture for you...
Say you run a financial firm, and you've uploaded a brand-new 15-minute video sharing how to calculate a complicated financial formula for your enthusiastic audience of business owners and financial professionals. You don't charge for the content, but you try to cover production costs through ad revenue.
What happens next will depend on where the video is hosted. Are you using a traditional video hosting site – or are you using a powerful OVP like Flowplayer?
With more traditional video sites, you publish your new video and then hope:
That it gets monetized and isn't flagged or taken down for no reason.
That it displays the right type of ads for your content and your brand.
As convenient as this opportunity might seem, the fact is, you have no control!
You may produce the best content in your industry – and you may have a group of loyal viewers – but you can still find yourself with a fraction of the income your content should be earning.
Fortunately, Flowplayer gives you a set of unique tools to optimise your video ad income. The most important tool is the ad schedule.
What is Ad Scheduling for Video Ads?
Now, let's take a look at what ad scheduling is and why it's so useful.
Basically, ad scheduling is a special feature that allows you to specify when (and which) video ads will appear on your video content.
Within Flowplayer, we actually have a unique "ad scheduling" feature that allows you to add multiple timed ads to what we call a player configuration. Any videos you've published on Flowplayer that use this player configuration are able to display ads based on the schedule you've selected.

So, back to our financial firm example: You can take your new financial formula video, upload it to Flowplayer, add a player configuration that you specify, and publish your new video with an ad schedule attached to that player.
Ads will run on the video and start generating revenue for you right away. It's that simple!
Why Flowplayer Ad Scheduling is a Must
We'll jump a little deeper into how ad scheduling works in Flowplayer in a little bit – but first, let's talk about the reasons you should set ad schedules for your videos.
Here are just a few of the biggest ones:
Full control. You can have as many or as few ads as you want. You can have a complex setup, or a simple one. You can define the placement of your ads in every one of your videos. The choices are all yours.
Greater ad inventory. Flowplayer makes it easy to work with multiple ad providers within the same schedule, so you can pick and choose the ads that will fit your brand and bring in the most revenue.
Improved ad fill rate. With the custom timeout feature in Flowplayer, it's possible to adjust the timeout for each ad tag to ensure that a new ad will play if an existing one is slow to load. This means a higher ad fill rate, and thus, more ad revenue.
Getting Started: Running Video Ads With Schedules
Ready to start running video ads on your videos? The process couldn't be easier!
It's essentially a flow chart that looks like this:

Everything starts with ad tags, which point to the ad provider(s) you work with. Fortunately, Flowplayer will work with virtually any ad server, network, or exchange.
In terms of ad formats, Flowplayer has support for the following:
Google DFP
Google IMA
SpotX
AdX
FreeWheel
Rather than requiring you to deal with a complex setup or a lot of programming, Flowplayer allows you to manage ads easily and conveniently, right in the user interface.
Let's break down the 4-step process of getting ads up and running:
1) Set up ad tags.
Once you're all set up with an ad provider, you'll want to add at least one ad tag to your Flowplayer account. This is necessary before you can init any ads in your ad schedule. The ad tag is usually a VAST URL from your ad network partner.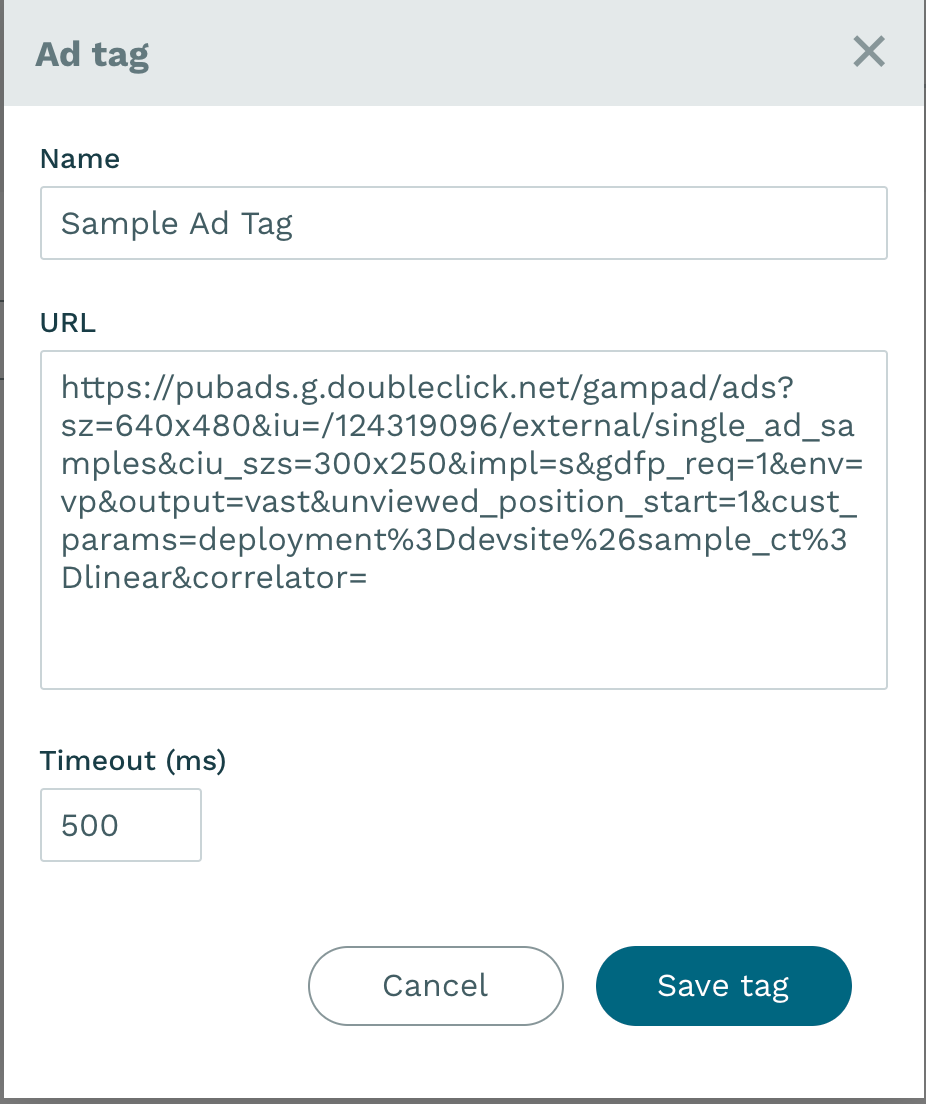 In this case, I grabbed an IMA sample tag to demonstrate how easy it is to set up a new ad tag that you can turn around and use in your ad schedules.
2) Create an ad schedule.
Once you have at least one ad tag, you can place ad tags within one or more ad schedules. The ad tag will appear as an option in the dropdown menu under + New ad.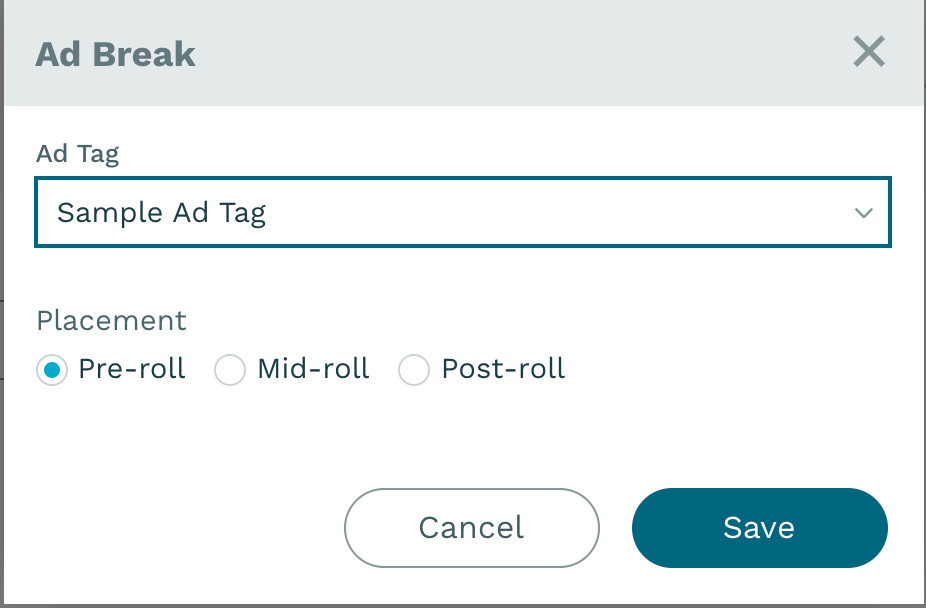 Just choose the ad tag you created, define its placement, and hit save!
3) Bind schedule to player configuration.
Once you've set up your new ad schedule, it's a simple matter of binding the schedule to a player configuration.
If you don't have a player set up yet, it's easy to do. Just head over to the Flowplayer sidebar, find "Players," and make sure you're in "Configurations." Then, hit the + New player to start a new player you can customise.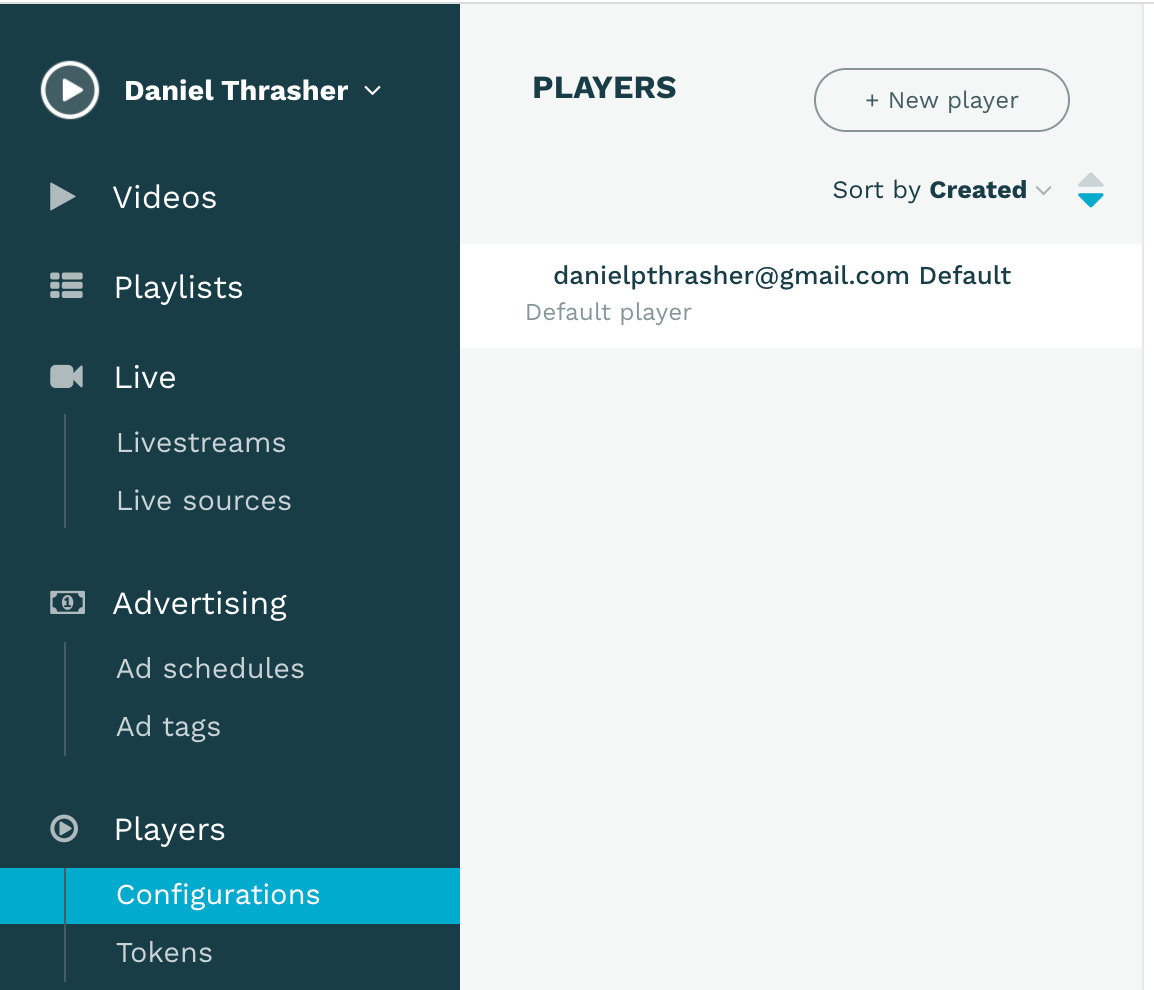 With a player ready to go, all you have to do is select the ad schedule you created in the previous step to bind it to your new player.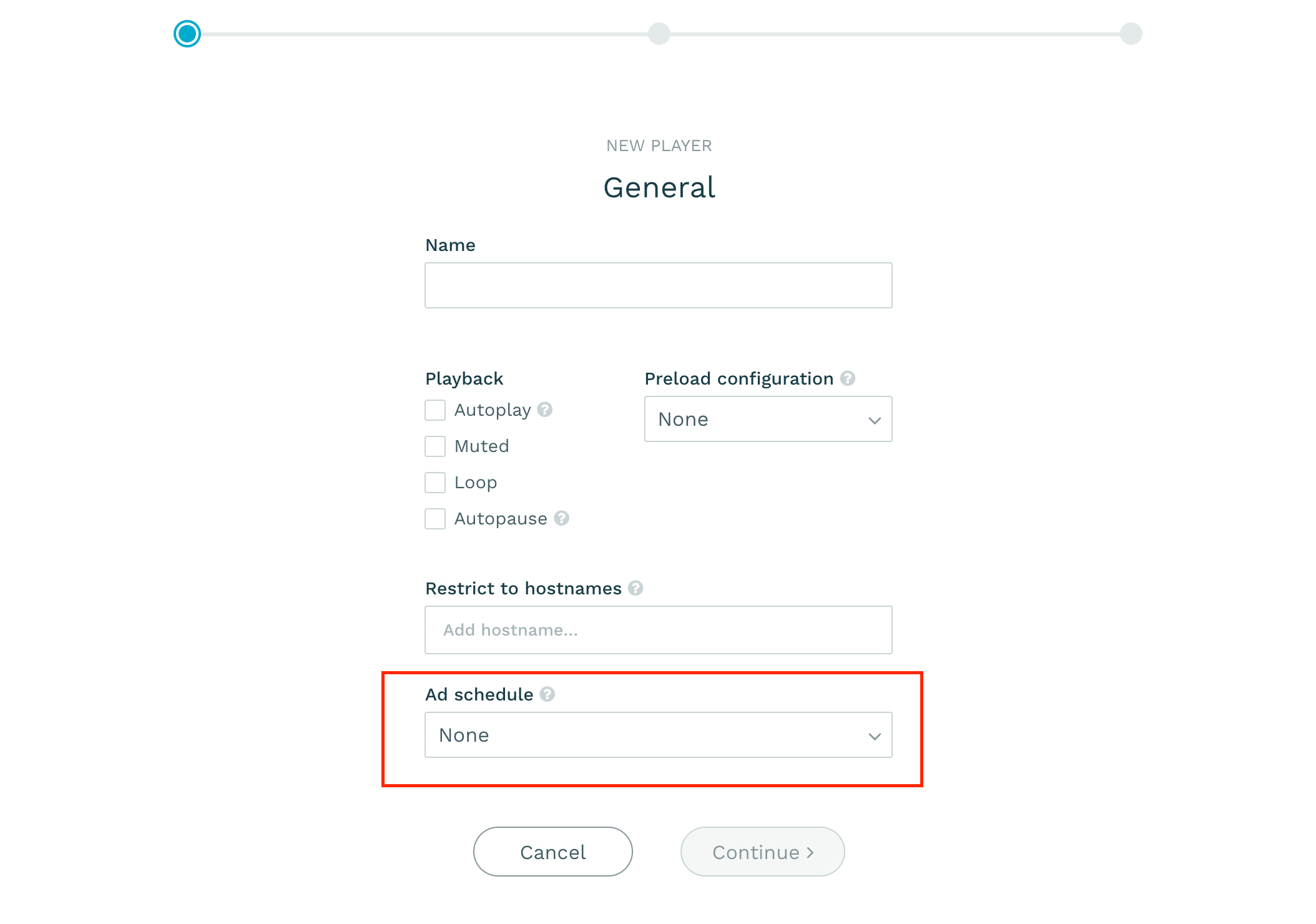 Now, you have a new player with a designated ad schedule that you can use in as many videos as you want!
4) Set player for your video.
As long as you have an Enterprise level plan, you now have the option to choose a player for each video you upload. This gives you unprecedented flexibility.
As an example, if you regularly publish a series of quick 1-minute videos, you may only want pre-rolls for this type of video. That means you could create a player configuration that you always add to these 1-minute videos, and a separate configuration for your 15+ minute videos that need at least a few mid-roll ads and a post-roll.
This is the versatility that makes ad scheduling a must for any serious publisher.
How to Set an Ad Schedule for Video Wrap-up
We've just barely scratched the surface of what ad scheduling can do for your video ad revenue. With so much flexibility built-in on Flowplayer, there's virtually no limit to what you can do to create the right customer experience, grow your revenue, and solidify your brand reputation.
If you want to learn more about how Flowplayer's ad scheduling feature works, contact us here. Or to see all of the features in our Enterprise plan, please visit our Plans and Pricing page!