 How to launch your online fitness studio and monetize from it
The demand for flexible workout options, and virtual classes is still on the rise and shows no sign of slowing, learn about your opportunities to monetize. Advertisements, product placements, subscriptions, swag shop.
4 minutes read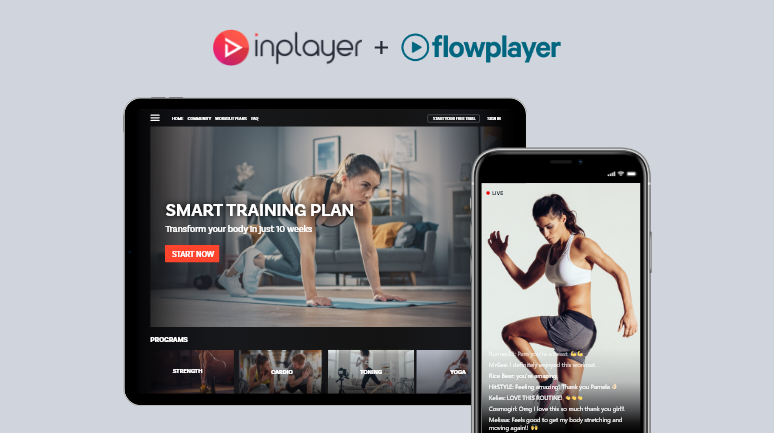 The global video streaming market continues to boom. Content owners and creators are giving more focus than ever on how to monetize their video content, whilst diversifying their revenue streams.
The health and fitness world provides a perfect illustration of this. In 2019 the digital fitness market was valued at more than $6 billion, like so many industries they faced huge challenges during the pandemic. This has further incentivized them to build an OTT/streaming based revenue stream.
To thrive in this crowded video landscape content owners are striving to;
understand their audience and be able to meaningfully reengage with them
identify their superfans most likely to pay for content/merchandise/other
provide a value proposition; offering content of a premium compared to what's available free on YouTube/Instagram
In our experience, flexibility is key. Content owners want a suite of monetization tools at their fingertips. This could be sponsor/AVOD funded or transactional, such as Pay Per View, Subscriptions or Freemium- or both.
InPlayer & Flowplayer - Workout; whenever, wherever
The health and fitness streaming market is now expected to grow at a rate of 33.1 percent CAGR – to an estimated $59 billion by 2027. The demand for flexible workout options, virtual classes is still on the rise and shows no sign of slowing.
InPlayer can support the growth and monetization of any fitness brand. Digital studios can be launched in days with fitness brands and influencers gathering real-time analytics and predictions of members' activity and engagement. This will help in developing data-informed strategies and execute targeted classes or lessons.
Flowplayer, on the other hand, can provide a market leading and flexible video player to host and deliver captivating wellness content. With a small footprint and a powerful architecture, you can expect fast delivery speed and more revenue for your business. Focusing on performance, Flowplayer has built an open architecture and extensive API that enables a wide range of plugins, such as accessibility, events, monetizing, analytics – an efficient workflow optimized for busy media health and fitness producers.
Why FlowPlayer and InPlayer?
The two companies represent a best-of-breed technology combination, utilizing true specialists in both streaming and monetization.
Both InPlayer and Flowplayer provide 24/7 high touch customer support for our clients and their users. We save you time and money. You will get technical and strategic help anytime you need, plus you won't need to hire an additional customer support team for your events, tickets, and subscriptions that you sell. Also, thanks to tokenized-based integration between InPlayer and Flowplayer, you enjoy increased security for video streams. This will help you maximize transactions without worrying about piracy or security issues.
The different streaming models mean opportunities for fitness instructors.: Advertisements, product placements, a swag shop, social plug-ins, newsletters -- are just part of the additional audience-building and monetization ideas, on top of the on-demand subscription charges. Better yet, all content and add-on components can be customized and integrated and all profits land in the pockets of the influencer themself. They exert full autonomy over their operation, own subscriber data and take full control of their online classes.
Together the two companies enable fitness and wellbeing professionals in the world to open up their reach globally, creating new revenue streams from their video content with the following key benefits:
Flexible Monetization Models Choose from flexible monetization models (pay-per-view, subscriptions, registration only) to fit your business needs.

Own Your Data, SEO and Revenue Reach audiences directly and start relationships with viewers. You own the data and your revenue goes directly to you.

Keep Your Viewers Focused Brands, convert prospects into customers and drive immediate sales by offering promotions, vouchers, seasonal offerings or discounts to related events next to the player.

Secure And Quick To Market With InPlayer, any business can quickly and securely (built-in authentication, single sign-on options, subscription registration, tracking capabilities) monetize content at no starting costs, no minimum subscribers, nor watching time. A zero-fee entry level allows immediate start and ROI.

Captivating On-Brand Experiences The InPlayer white-label paywall is embeddable in any website and has an extensive set of options, including templates, layouts and combinations. With no ads, competitive noise or third-party logos, your brand will be at the center of the attention with easy-to-navigate purchasing experiences. Flowplayer also offers easy branding of the player to optimize the look and feel of your offer.

You Are In Control All your video assets are under your control on your own branded site and apps. Organize, distribute, promote and monetize each asset or package the way you wish.

Get Deeper Analytics Real-time integrated analytics, engagement data and purchase predictions to track and measure purchasing, engagement viewership and content metrics.

Higher Security For Identity And Payment Transactions GDPR And PCI InPlayer is fully certified and committed to maintain all clients data and payments fully compliant, achieving and upholding ongoing compliances.

24/7/365 Support Your end-users receive tailored and unmatched quality multilingual support 24/7/365 for any issue that arises.

Built to Scale Our platform is supporting your business and lets you scale as you grow. All payments are sent directly and immediately to the payment processor of your choice.

Wrap-up

Wherever you are on your monetization journey, it is crucial to have the most reliable and secure online video and monetization platforms for your live, PPV and on-demand video offerings. Flowplayer's ease of customization matching branding requirements, combined with the lightweight footprint required to deploy the player and integrated video content management system, makes it the top choice for fitness professionals - large and small.
To find out more about how you can utilize InPlayer's robust and flexible monetization solution, in combination with Flowplayer's powerful video platform, you can now download our joint whitepaper we recently did together and start your monetization journey today!