 9 Types of eLearning Videos to Power Your Online Education Business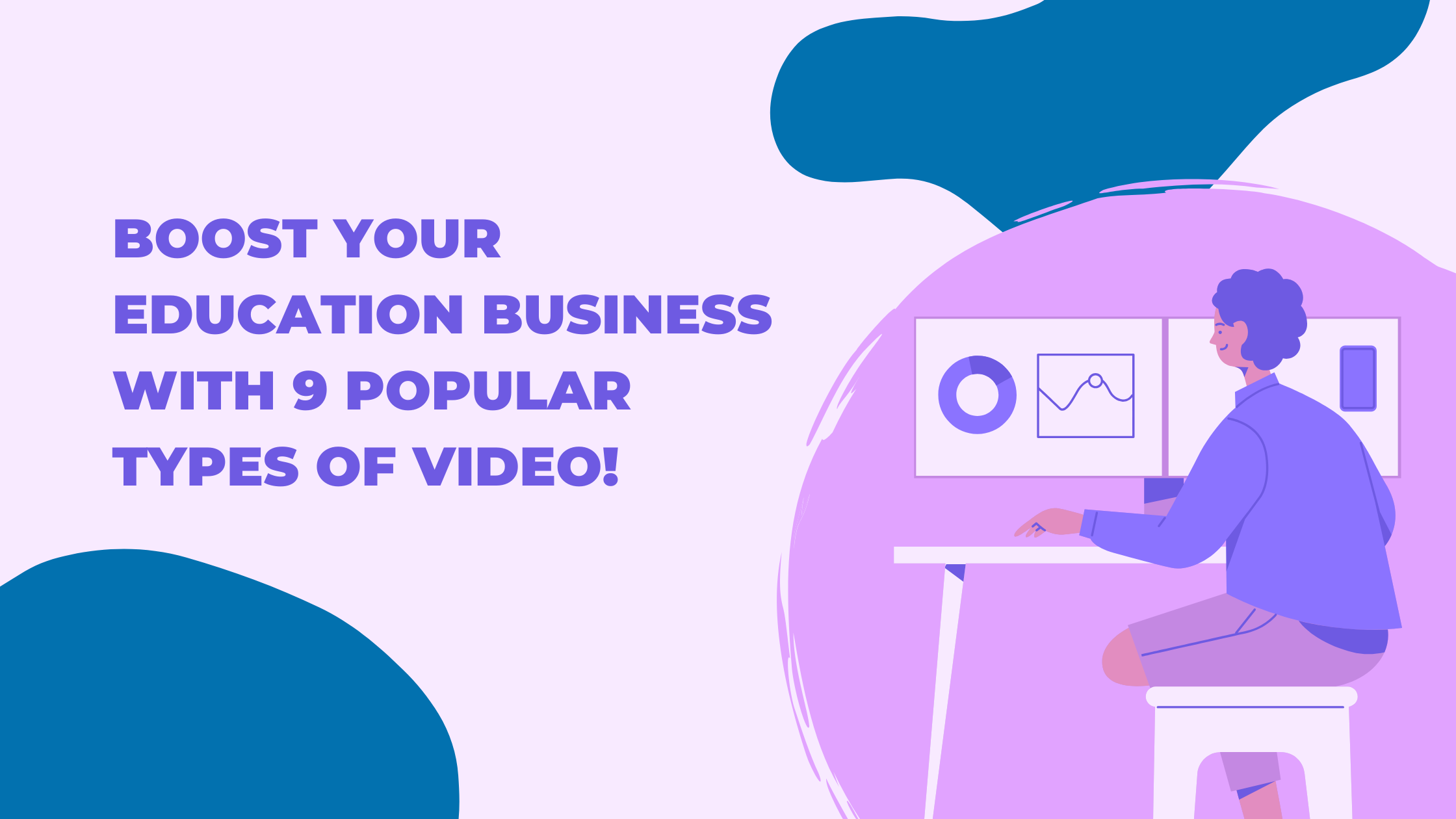 Video is an essential part of most e-learning training programs.
Just put yourself in a customer's shoes for a moment: Can you imagine signing up for an online course these days and not receiving any video content?
Yeah, neither can we!
Here at Flowplayer, we have dozens of eLearning clients whose entire business model revolves around teaching customers through online videos. These businesses and media publishers rely on Flowplayer's online video platform infrastructure to host, stream, and monetize their video content.
So, whether you're looking to launch an online video education platform from scratch or you just need to pick up a few new video ideas, read on!
Why Create eLearning Videos?
First of all, why even bother with video for your business?
Well, video is now the most popular format on the web – and it's particularly relevant for eLearning audiences.
Worldwide, just over 50% of 16-24 year old internet users watched eLearning videos online in Q4 of 2021. This percentage dips slightly for 25-34 year olds and 35-44 year olds to 47% and 45%, respectively, but the trend is clear: online learning videos are more popular than ever! This is the direction education is going.
And your business can take advantage of that. Maybe you want to use eLearning as a profit center, or just as a content marketing program to generate new leads. Either way, eLearning video content represents enormous business potential.
9 Types of Videos in eLearning
If you're ready to capitalize on the power of eLearning video content in your business, here are several of the most popular types of videos in eLearning to create for your audience.
1) Talking Head Videos
The most basic eLearning video is just a simple talking head lecture: Have an instructor face a camera and talk about the subject. For this, you don't need any more equipment than a camera, a decent microphone, and ideally, some external lights.
Of course, while it's possible to make a video that only features a talking head, most top eLearning videos will incorporate graphics or slides for the instructor to refer to as well. TED talks and The Great Courses lectures are both great examples of talking head videos.
Example: TED Talk
The power of vulnerability | Brené Brown
2) Interview Videos
Interview videos are a more dynamic version of a talking head video. Instead of just one person doing all the talking, now you have two: one asks the questions and the other one answers, or they each take turns.
Interview videos are ideal if you have a subject matter expert with information you want to share.
Example: FranklinCovey OnLeadership - Emmanuel Acho - The Sky is not the Limit
Scott Miller podcast OnLeadership
3) Slide Presentation Videos
A slideshow presentation video is another huge format for everything from YouTube videos to premium eLearning courses.
One reason is because these online education videos don't require much of a budget: just put together a decent slide deck in Google Slides, Keynote, or PowerPoint, and then record yourself going through them with a voiceover narration.
You don't even need to show your face on camera – but if you decide to do it anyway, you can usually get away with just your phone or computer's built-in camera.
Example: How to Create an Awesome Slide Presentation
How to Create an Awesome Slide Presentation with Pat Flynn
4) Animation Videos
There are countless examples of animated videos that can teach you something. Animation in teaching materials can be a lot more engaging than a simple presentation or talking head video, and it can even be used to illustrate concepts that would be hard to explain.
For example, in science education, you could simply talk about how big the sun is, or you could demonstrate through animation how the sun is the same volume as 1.3 million earths. The quality of animation can vary widely, of course, but it's still a great way to share engaging information with your audience.
Another popular example of animated education videos is Headspace, the meditation app, which uses a unique style of animation to portray moods and other abstract concepts.
Example: Headspace
Headspace | Meditation | Brilliant things happen in calm minds
5) Whiteboard Explainer Videos
A more specialized version of the animation training video is the explainer video, typically done on a whiteboard where elements like characters and text are "drawn" in by hand on the screen.
Like with general animated video content, whiteboard videos do a good job of putting images to a script and keeping people's attention.
Example: The History of Marriage
The History of Marriage - Whiteboard Animation
6) Demonstration Videos
There are two main types of demonstration (how-to) videos: physical demos and screen capture demos.
Physical demos are straightforward: Simply take a video of someone demonstrating how to do something. This could be anything from assembling a piece of equipment to demonstrating a sales pitch technique.
For more technical tasks that take place on a computer or mobile device, you can use screen capture software like Camtasia to do a software demonstration instead. If you've ever looked up tutorials on how to do something in Adobe Photoshop or other advanced software, that's a perfect example of a screen capture demo.
Example: Photoshop Tutorial
Photoshop Tutorial - Stretching an image with Content-Aware Scale
7) Webinar Videos
The webinar is where things get really interesting! As an eLearning business, you should consider providing live content to your audience.
The way it works is, you prepare a presentation that your audience is interested in or host a live Q&A session. Then, you record your webinar with a live crowd in attendance. Then, you can host the recorded session as regular content or bonus material for your customers.
You should also note that, within Flowplayer's online video platform, it's possible to deploy a Simulive webinar. Simulive (VOD to Live) video that appears live, but is actually pre-recorded. Many of our clients use Simulive after they've done a webinar a handful of times and perfected it, because a live stream will get more engagement than VOD content.
Example: Flowplayer Video Tutorials
8) Interactive Videos
You can get really creative with eLearning content. Rather than simply publish videos that your audience watches passively, you can incorporate hotspots (clickable elements within the video), quizzes, homework, additional resources, and even branching lesson paths.
Interactive videos are great for engaging your viewers and creating a more well-rounded learning experience.
Example: Coldplay's "Ink"
https://video.eko.com/v/coldplay-ink?autoplay=true
9) Livestream Videos
In the world of online video, it's important to distinguish between VOD and live streaming content.
VOD stands for video on demand, and it refers to pre-recorded content that users can access anytime they want. Live streaming, on the other hand, is a live event that users need to tune in for to see.
Live streams and virtual events can run the gamut from interviews, talking head lectures, presentations – basically, any video format we've already covered. But the difference is, you get live engagement and feedback from your audience!
They can also be scheduled, impromptu, or 24x7 (like the stream in the example below).
Example: Panda-cam
https://nationalzoo.si.edu/webcams/panda-cam
How to Create eLearning Videos
We've talked about several great formats for eLearning videos. When it comes to actually producing them, there are many ways to go about it.
For example, say you want to narrate over slides. If you have PowerPoint or Keynote presentation software, you can simply record an audio narration by clicking the Record Slide Show button and then saving the file as a .mp3.
For Mac users, Keynote is great, because it saves the presentation as a movie and converts it into a format that can be uploaded directly to a platform like Flowplayer.
If you're looking for an easy way to create presentations, consider using a tool like Google Slides. If you need to add visuals, try a tool like PowerPoint Online. If you want to share your presentation online, check out tools like SlideShare.
Screencasting tools allow you to record your computer screen while recording audio. You can then upload the videos to Flowplayer and host them wherever you want, and then monetize them through Flowplayer's built-in ad features.
Conclusion
Ultimately, video is one of the best formats for teaching an audience online, because it allows you to capture their attention in a powerful way.
Video is also great for demonstrating concepts, explaining processes, and showing examples (remember the sun and earth comparison we covered earlier?). Plus, there are plenty of different ways to create videos – including screencasts, narrated videos, animated videos, and talking head videos – that will engage your audience.
Hopefully, this post has given you plenty of solid ideas on ways to create eLearning content for your own customers. Now, it's up to you to create the content they want to see!
If you're still trying to decide the best way to host, stream, and monetize your eLearning content, why not give Flowplayer a try? We provide a totally free Explorer plan that allows you to give our highly-rated platform a complimentary test drive.
Or you can contact us to find out more about our pricing options and create a custom Flowplayer plan that's perfect for your eLearning business!