 Flowplayer Recognised as Top Live Streaming Solution Provider in 2021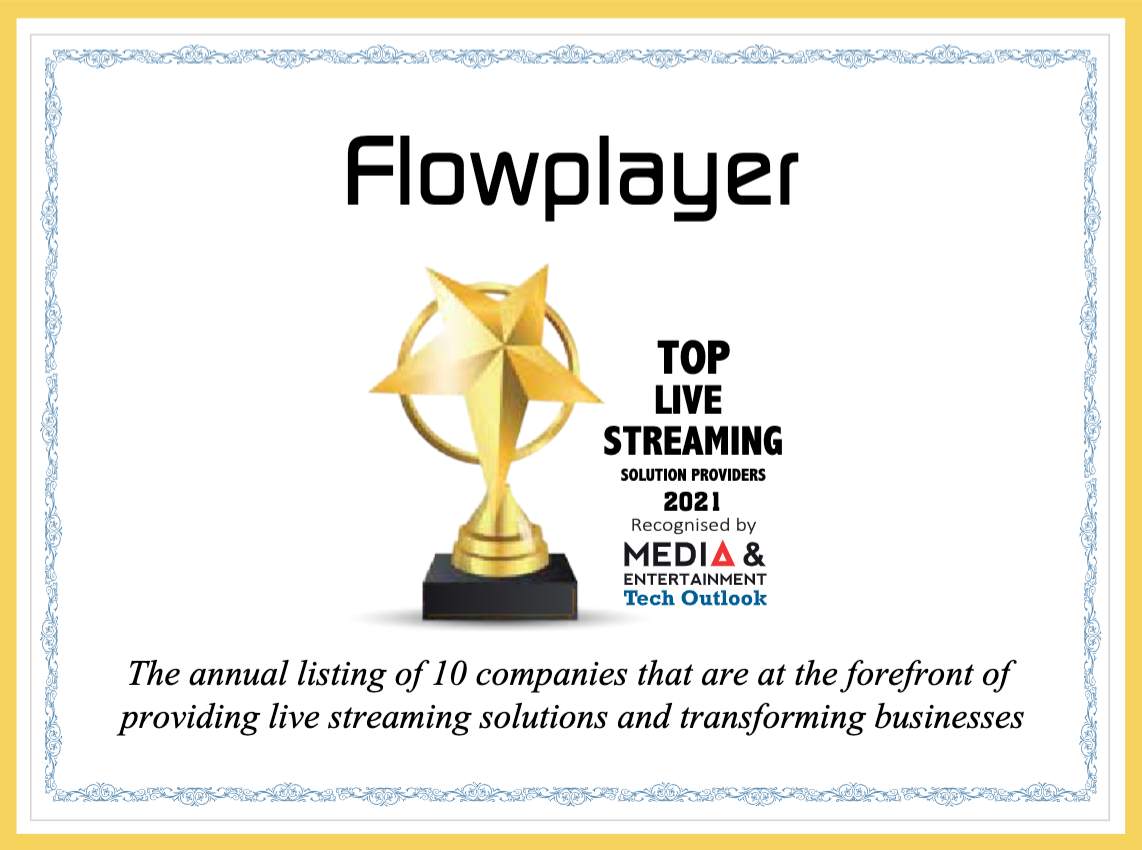 Flowplayer made the list!
We're excited to announce that Flowplayer has been recognised as a top 10 live streaming solution provider by Media & Entertainment Tech Outlook!
This is a prestigious honor and a welcome reminder that the hard work our team puts into Flowplayer every day is paying off.
But there's more to share! Here's what it means to be a top streaming solution in today's media and entertainment technology landscape.
What is a Top Live Streaming Solution Provider?
Flowplayer is proud to be featured as a top 10 live streaming solution provider for businesses. But what does that mean, exactly?
Well, it means out of all the possible providers of live streaming video solutions on the market today, Flowplayer is right at the forefront, helping businesses leverage this important technology to grow their bottom lines.
The yearly list of streaming solution providers is put together by Media & Entertainment Tech Outlook, a print and digital magazine all about technology for the media and entertainment industry.
The outlet covers a range of engineering solutions and services throughout all segments of media and entertainment, such as broadcasting, publishing, entertainment, marketing & advertising, and new media.
As part of their coverage, Media & Entertainment Tech Outlook periodically releases an issue of their magazine specialising in a particular area of media and entertainment technology. The publication's recent annual Streaming Edition was all about the rise of live streaming – and they made a few interesting points:
Live streaming is helping brands communicate and engage with their audiences better than ever before.
Big streaming platforms like Facebook and Twitch have seen a surge in live streaming users and hours watched (50% and 100% higher, respectively).
The solution providers listed in this issue were chosen based on insights from experts, CIOs, and CXOs in the live streaming sector.
With these thoughts in mind, here's what the experts had to say about Flowplayer!
All About Flowplayer, a Top Live Streaming Solution Provider
"The Go-To Online Video Platform for Live Streaming" is a catchy title for our spread in the magazine, but at Flowplayer, we happen to believe it's true.
You can check out the full spread about Flowplayer in Media & Entertainment Tech Outlook's 2021 Live Streaming Edition, pages 22-23 – but here are just a few of the highlights about Flowplayer from the piece.
A Full-Stack Solution
"Full-stack solution" is more than just a tech company buzzword. It means that instead of having to piece together different software solutions to meet your needs, you can work with one integrated solution that brings all of those features together.
At Flowplayer, we provide an all-around solution for online video. We have innovative video player technology, robust live streaming, and a user-friendly design that allows customers to optimize the user experience.
This is why Flowplayer is one of the most deployed online video players in the world.
Integrations, Not Silos
"We believe that the power of the web does not lie in silos, but in integrations," said Henrik Lovén, CEO at Flowplayer.
A key feature of any online video platform is flexibility, because every publisher, broadcaster, and digital media business has its own unique needs. That's why Flowplayer chose to design its platform so that customers could build codes and expand what Flowplayer is capable of.
As it turns out, when people and businesses can work together, amazing transformations are possible.
Conclusion
It's always wonderful to get recognition from others within our industry, but what really matters is that Flowplayer has the reputation and the experience to provide a one-of-a-kind online video platform for our customers.
From 24/7 live streaming and Simulive to plugin customisation options and in-depth analytics, Flowplayer has a core offering that allows our clients to meet all of their video needs and grow their businesses to new heights.
(To read the full spread, visit Media & Entertainment Tech Outlook's 2021 Live Streaming Edition, pages 22-23.)
And to get your questions answered about Flowplayer features, please reach out. Discover the power of Flowplayer for your business – get in touch with us today to get started!