 How Free Ad-Supported TV (FAST) Can Help Your Business Grow in 2022
Free ad-supported TV (FAST) is on the rise. FAST is a new model of linear content delivery.
7 minutes read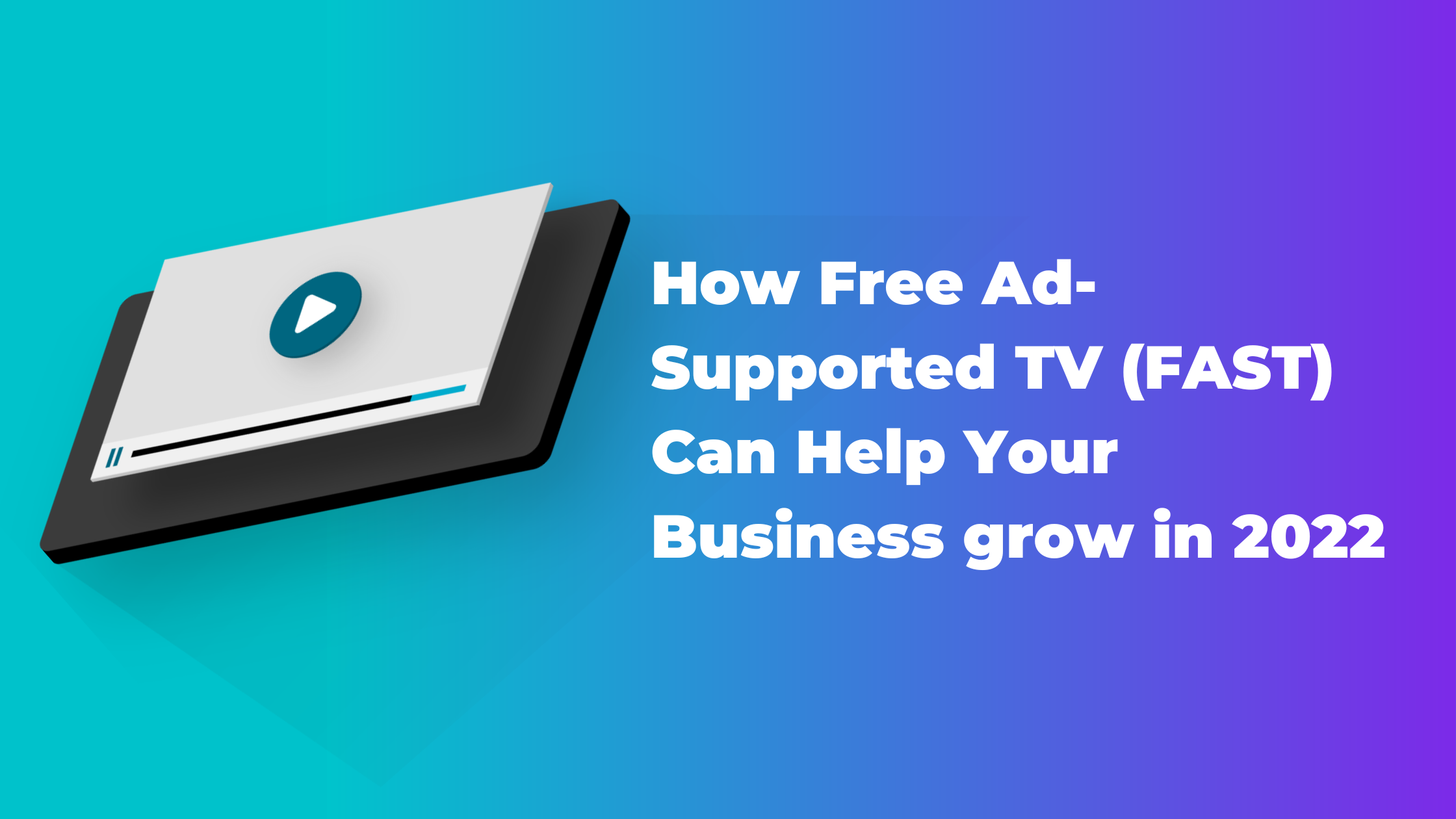 It's no secret that free ad-supported TV (FAST) is on the rise. In fact, according to a survey from Statista, the share of FAST platform viewers in the United States alone grew from just 40% in 2020 to 58% in 2022 – and FAST viewership is growing rapidly in Europe as well!
So, what does this exciting over-the-top (OTT) technology mean for businesses like yours? Well, FAST represents an important new way for you to reach customers with your content – so it's well worth paying attention to!
In this FAST guide, we'll look at what free ad-supported TV (FAST) is, how it's changing the world of media and marketing, and a few ways your business can take advantage of it!
What is Free-Ad Supported TV (FAST)?
FAST is a new model of linear content delivery, first entering the mainstream in 2019 and quickly becoming one of the most-watched developments in the world of video!
Because it's primarily linear, FAST is similar to traditional TV and cable. It provides free, ad-supported streams of content as channels – but through a different mechanism.
Here are the key differences between FAST and traditional cable TV:
FAST content is delivered over the internet, instead of through cable or satellite TV providers.
FAST services are typically ad-supported, instead of subscription-based like traditional cable TV. (Though some FAST channels may still require subscriptions for premium content.)
FAST is often delivered through streaming video platforms like Roku or Amazon Fire TV, instead of being accessed through a cable box.
Variety suggests that the number of channels available on FAST platforms has reached 1455, as of June 2022. With such rapid growth, it's obvious that FAST is making its mark in the world of video.
I should also point out that FAST is distinct from the other free streaming option, advertising-based video on demand (AVOD), which lets viewers pick the specific titles they want to watch on demand. A few of the popular streaming services, such as Peacock, provide free AVOD content – as do many prominent video platforms like YouTube.
But it's likely we'll see these streaming services offer more FAST content to stay competitive as new free content options become available.
Why is FAST Growing So Much?
There are a few key reasons why free ad-supported TV (FAST) is on the rise:
The cost of streaming video services has decreased, making them more accessible to consumers over the last few years.
The number of people cutting the cord (cancelling their cable or satellite TV subscription) is on the rise – but many of them still want to watch their favorite channels. Watching FAST content through OTT or CTV is one of the best ways to do it.
More consumers have high-speed internet connections, which makes it easier for them to stream video content.
It's also easier to access FAST content on any device, as opposed to just a television, which is a huge selling point. It's even possible to create personalized linear channels (PLCs) as part of FAST, which allows viewers to get the exact content they want!
And for those who don't want to pay a subscription of roughly $50 per month to stream live TV through packages like YouTube TV, Sling TV, or Hulu + Live TV, FAST gives them a free alternative!
The bottom line to all this is, you should expect free ad-supported TV (FAST) to continue growing in popularity – and if you want to get in front of your audience, you'll want to take advantage of FAST's rapid growth.
So, let's talk about a few of the ways FAST can help your business!
3 Ways Your Business Can Take Advantage of FAST
There are a few key ways that FAST can be part of your business strategy. Let's take a look at them!
1) Advertise With FAST First of all, FAST is a robust advertising option that's more affordable, targeted, and flexible than traditional TV advertising. Instead of blasting your commercial to a large area of general TV viewers, you can get your commercial or advertisement in front of the most relevant people based on demographics, interests, and geolocation.
Another point you might be interested in? The hourly ad load for FAST content is typically just 8-10 minutes, compared to 10-16 minutes for traditional TV ad loads. This means less competition for your ad among FAST viewers.
You also have the ability to measure and target viewers on a 1:1 basis, thanks to FAST's presence on a connected TV or other device. Advertising on FAST is still a work-in-progress, for obvious reasons, but it does represent a powerful opportunity for reaching your ideal audience!
2) Distribute Original Content Via FAST Channels In addition to advertising through FAST channels, you can also use the medium to distribute your own original content and get it in front of your target audience.
If you think back on traditional television, it largely lumped the same type of content together on a single channel. That meant users had to bounce between linear channels to find everything they wanted to watch.
Now, FAST can essentially function as a discovery engine for users, a la Spotify or TikTok. As a business or content publisher, it's entirely possible to seed your videos on other curated FAST channels and PLCs.
3) Launch Your Own FAST Channel If you want to get really involved with FAST, then you might consider launching your own channel on a FAST platform like Roku!
This is a great option for media companies or content creators who want to have complete control over their channel and content. Plus, it's a great way to build brand awareness and reach a larger audience. And if you've already created content for use on a live streaming or VOD platform like Flowplayer, then you can just repurpose those existing videos for your channel.
The biggest downside to launching your own FAST channel is that it requires an upfront investment, but it's definitely a great way to take advantage of the growing popularity of free ad-supported TV.
And of course, by owning your own channel, you have the flexibility to either promote your brand or monetize video content to generate revenue from ad placements. Ads are a serious revenue stream for streaming providers – and they could be for your business too!
Lastly, depending on whether you're primarily in the media business or whether you're a service business that depends on clients, you can use FAST as a way to generate leads by including calls-to-action (CTAs) in your videos.
For example, if you're a home improvement company, you could create how-to videos on topics like "How to Install a New Showerhead" and mention your company at the end.
Whether you're looking to share organic content, launch your own ads, or some of each, FAST channels could become a valuable asset for your business!
Frequently Asked Questions
What is the Difference Between AVOD and FAST?
AVOD (ad-supported video on demand) is a type of content delivery model where viewers can watch the exact videos they want for free, but they have to sit through commercials. FAST (free ad-supported TV) is similar, but it's primarily linear instead of on-demand and delivered over an OTT platform like Roku or Amazon Fire TV.
What CPMs Can I Expect from FAST?
The CPMs from FAST will vary depending on channels and content, but is typically measured as $40-50 per 1000 impressions. That means as a FAST channel provider or content creator, you can expect to earn $0.60-$1 for each hour consumed. Of course, as the popularity of FAST grows, the CPMs will only continue to climb!
What is the Future of FAST?
The future of FAST is looking bright! Thanks to the growing popularity of streaming video services and the rise of cord-cutting, more and more people are interested in watching free ad-supported TV.
This means that there's a lot of opportunity for businesses to take advantage of FAST's rapid growth!
Conclusion: What's Next for Free Ad-Supported TV?
In the end, you should consider FAST for what it is: an exciting new model of linear content delivery for both consumers and businesses!
If you're looking to take advantage of FAST's rapid growth, consider advertising through FAST, distributing original content via other FAST channels, or even launching your own FAST channel!
And keep in mind, because it's still so new, FAST may be an opportunity you can seize on that your competitors aren't even aware of yet! Now is the time to explore the possibilities of FAST for your business.
If you have any questions about free ad-supported TV and how Flowplayer can support your business's video strategy, don't hesitate to contact us here – or give our video on demand and live streaming platform a free test drive here!
It's an exciting time for the world of video. We look forward to seeing you in the FAST lane!