 Introducing Flowplayer FanZone: A First-to-Market Co-Watching Experience

In partnership with Sceenic, Flowplayer is proud to announce Flowplayer FanZone, the first-to-market video player and watch together SDK for co-watching!
This innovative video player solution is a huge opportunity for broadcasters and enterprises looking to provide the best possible experience for users to engage with their video content, including both pre-recorded and live stream videos.
Why Co-Watching?
Over the past year, one of the most widespread behavioral changes that's emerged is the rise of co-watching, where people in different locations watch the same content together virtually, in real time.
Due to the Covid-19 pandemic, more people are spending time at home, but the desire for connection with friends, family, significant others, and co-workers is also stronger than ever. In fact, Nielsen data found that co-watching makes up 34% of streaming behavior, which means 1 in 3 streamers are actively watching with others at any given moment.
Now that co-watching technology has taken hold, it's only going to become more prevalent, and this means broadcasters and media companies need to incorporate co-watching into their own media strategy!
What is FlowPlayer FanZone?
At Flowplayer, we're always looking to provide the most up-to-date features for our clients. That's why we're proud to have partnered with Sceenic to bring you Flowplayer FanZone API/SDK, the first to market co-watching software solution that's ready to be deployed inside OTT and video platforms.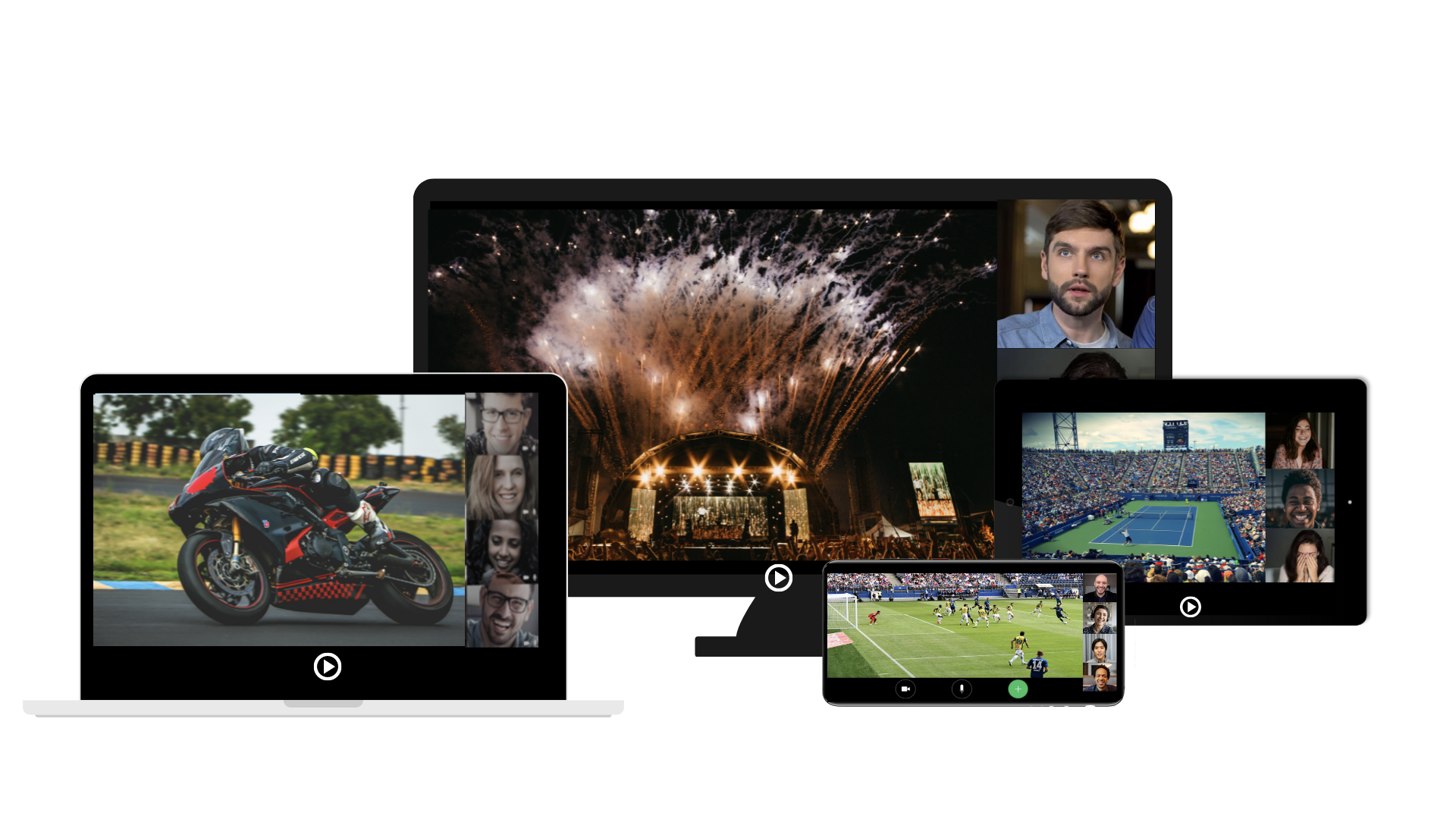 Here's a quick look at some of the key features your users can enjoy within Flowplayer FanZone:
Inviting friends and family to private rooms to watch your content together.
Creating watch parties so users can meet with others without a private invitation.
Scheduling a Watch Together event by sending an invite with date and time.
And below are some of the many features you'll love using to maximize the return on your video investment in FanZone:
Instant live streaming. You can instantly live stream your content with just one click.
Countdown timers. You can schedule a stream and include a countdown timer for your audience before the live event starts to build excitement and anticipation.
24x7 streaming. You get access to a cloud-based encoder for 24x7 streaming support without interruptions in HD format.
Live clippings. You can create live clippings from the stream while the event is running.
Rewind and watch again. With DVR functionality, you can allow your viewers to rewind and watch a special moment again – all while the live stream is still ongoing.
Monitor real-time analytics. Using live analytics, you can see in real-time how people are watching your streams. When the event is over, you can see how the event went at any later time.
Imagine what's possible if your audience has the ability to watch together from anywhere. With the technology behind Flowplayer FanZone, a team of co-workers separated by distance could all have a private watch party to view your keynote speech as a team building exercise. A husband and wife who are far apart can tune into co-watch one of your new videos for date night.
The options are virtually endless!
More about Flowplayer FanZone
With FanZone, you can integrate it into your existing Flowplayer workflow.
According to Sceenic COO, Jonathan Williams, "Flowplayer FanZone will allow video content owners to enable the hottest engagement tool, 'Watch Together,' right in Flowplayer. The two products will save them time to market and will make watching content a social experience in no time!"
Stay tuned for more information about Flowplayer FanZone!
Who is Sceenic?
In 2013, Sceenic became the innovative creator behind Watch Together, a software solution for real-time fan engagement and conversation. The company has clients as varied as BT Sport, T-Mobile Germany (Deutsche Telekom), NPO, ScreenHits TV, LaLiga, Virgin Connect Russia, WeLoveGaming eSports, among others. Sceenic's claim to fame is its SDKs, which can deploy quick and easy co-viewing services for clients. Sceenic was recently named Game Changer and placed in top industry position in the Sports Innovation Lab Power Play Index.  
About Flowplayer
Since 2004, Flowplayer has been a pioneer in the fast-paced world of video playback on the web. Flowplayer's product includes not just player technology, but a full-stack media solution for enterprises, publishers, and broadcasters who want more control over their video strategy.
The company has clients that include Disney, HBO, and Universal. With the addition of Flowplayer FanZone, Flowplayer has taken another big step forward in providing an all-in-one video hosting and playback solution for businesses around the world.
www.flowplayer.com
If you're interested in testing out Flowplayer FanZone and discovering more of Flowplayer's functionality, just visit our Plans and Pricing page to find out more.
_